TOWN MANAGEMENT
Town management
Sustainably developing the town by forming links between the next-generation community association and the town management company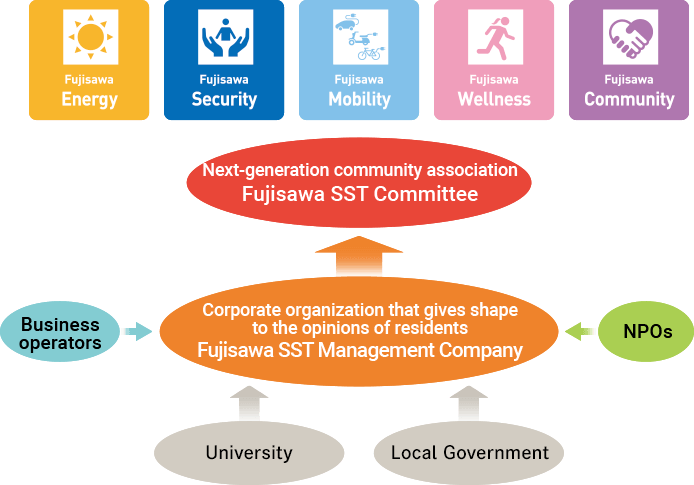 Fujisawa SST Committee
The next-generation community association, takes a central role in resident-led town development
To continue developing and nurturing eco-friendly and smart lifestyles even a century from now, people and companies need to share their visions, establish systems and services needed on a moment-to-moment basis, and take actions that affect the entire town. To this end, Fujisawa SST has organized the Fujisawa SST Committee, a nextgeneration community association. In addition to the roles of a conventional community association, the Fujisawa SST Committee has prominent functions that include a wide range of activities related to the environment, energy, security, and safety, and the maintenance and management of properties owned. The Fujisawa SST Committee will act as the foundation for resident-led town development. It generates specific ideas and takes actions to achieve the goals of the entire town. Furthermore, the Fujisawa SST Committee will plan events, festivals, culture lessons, eco- seminars, and so on to enrich communication between residents of the town and near by areas. A real community will be developed.
Committee office

■Town coordinator and Committee office operation committee

Staff sent from the Fujisawa SST Management Company will assist you with community operations.

■Club activities

[Culture club] An organization for promoting cultural and healthy lifestyles, such as by holding festivals or providing welfare programs

[Living club] Organization for maintaining a comfortable living environment through cleaning, greening or beautifying the town

[Safety club] Organization for creating a safe and secure town through crime and disaster prevention programs, including town patrols and fire drills.

■Regular annual events

Each club holds various events on topics such as local production for local consumption and disaster prevention or summer festivals. These events will foster relationships among residents and create a community.
Circle activities

A wide range of circles is available, such as hula dancing, running and reading.

Guidelines serving as voluntary rules

Fujisawa SST's overall targets

Fujisawa SST community design guidelines

Fujisawa SST town design guidelines

Town assets

Voluntary management spaces (Welcome Garden, Breeze Garden, Circle Garden, etc.)

Committee Center (meeting place)

Surveillance cameras

Others


Fujisawa SST Management Company
A corporate organization for realizing input from residents
To provide specific services and systems based on the real opinions of residents found in the Fujisawa SST Committee, a corporate organization called the Fujisawa SST Management Company will be established. This Company will be engaged to negotiate with partner companies, Fujisawa City, and peripheral communities; realizing specific demands of residents; and sustainably evolving the functions of the town. Even though the town may be more advanced than any other type of town at the time of opening, it will become a "historical relic" in five years, thirty years, or a hundred years unless it keeps evolving in line with needs of the times and of its residents. The Fujisawa SST Management Company is a system that adopts a" resident-led" perspective for continuously modifying the town in accordance with current lifestyles.
Fujisawa SST Committee and Fujisawa SST Management Company