SUSTAINABLE SMART LIFE
Sustainable smart lifestyles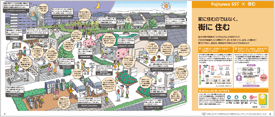 What types of new lifestyles will be created in this town? We have created sustainable smart lifestyles unique to this town from a variety of lifestyle-related perspectives focusing on living in this town.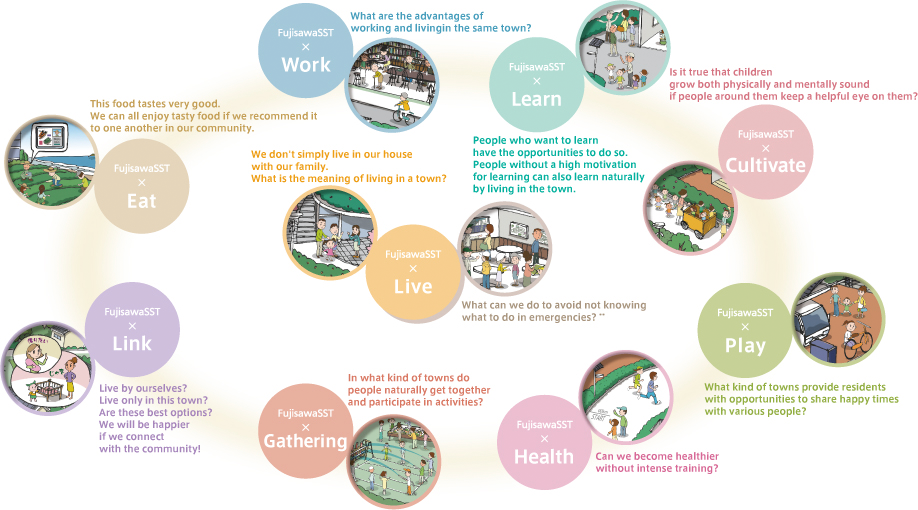 To create a town where people can live over 100 years

It is important for each resident to think about and create future lifestyles and hand wisdom down to following generations jointly with other residents. To encourage residents to think about sustainable and intelligent lifestyles, we have created the Lifestyle Book, a portal site for residents, and also a town design conference and other necessary systems. The lifestyles of this town will be established and continue to be evolved by individuals who live here even 10, 40, 70 and 100 years after the town opening.

We distribute the Lifestyle Book for residents. Its contents are available on the town portal site exclusively for residents.
Interviews with people who were involved in the town's development

What are "sustainable smart lifestyles"?

There are people who have promoted the Fujisawa SST development project. What kind of lifestyles do they want to create with residents? We asked people who have been involved with the town development project representing different fields about their hopes and feelings for Fujisawa SST.

Although Fujisawa SST is a state-of-the-art town, people can live as comfortably as in a traditional Japanese town.

In Fujisawa SST, technologies replace people in performing onerous household chores, so residents can do what they really want to do. I have expectations: For example, warm relationships with neighbors, which we used to have but not now because they are time-consuming, may be revived. Traditional Japanese courtesies or styles of living may come back. What is more, beautiful lifestyles in the Fujisawa SST may become a global model. ** Independent individuals support one another as residents of the town. Conserve limited natural resources as a global citizen. I would be happy if residents were able to maintain and hand down the spirit of the town.

Panasonic Corporation
Mr. Michihiro Sakamoto

He belongs to the Media & Spatial Design Laboratory and recommends the designs of houses and towns from the perspectives of global or regional issues and a comprehensive electronics manufacturer.

The SHONAN T-SITE will give birth to offer a lot of "wonders" in everyday lives.

The key concept of the complex cultural facility SHONAN T-SITE is "wonder." It will always offer wonders and empathy. For example, we will adhere to the concept of "local production for local consumption" for the food we serve in our facilities. We are planning to offer food that is unique to our restaurants and happy experiences only available in our facilities. We will take a new and different approach to the creation of playing spaces. We are planning to create spaces where parents want to take their children instead of where they simply accompany their children. We are also planning to produce a "nomad" cafe, where people can work in a calm atmosphere. The SHONAN T-SITE will be a facility where residents always find what they need and also encounter "wonders."

SO-TWO.INC
Mr. Hiroyuki Kitamura

Project to create the Shonan T-SITE in Fujisawa SST The SO-TWO is a professional company that has developed state-of-the-art cultural trendsetting sites, such as the Daikanyama T-SITE.

The elderly can pass down their knowledge and skills to children, and children can brighten the lives of the grown-ups.

We have developed the Wellness SQUARE that has nursery centers, cram schools, assisted residences for the elderly, elderly care facilities, clinics and pharmacies in one location because we wanted to have a system that would provide opportunities for people who visit the facilities to communicate naturally. At the square, the elderly may show children how to fly a kite or spin a top, and fathers who know a lot about Space may observe the stars with children through a telescope. Although computerized searches are convenient, hands-on experience is important for children. Adults who pass on their knowledge to children will find it an enjoyable experience. We will initially provide a system that facilitates communication, but I hope that residents will come up with their own projects that boost social interaction.

GAKKEN HOLDINGS CO.,LTD.
Mr. Seiichi Kimoto

Based on the expertise accumulated through the business of children's book publication, kindergarten and cram school operations and supporting parenting, Gakken Holdings will provide new learning opportunities at the Wellness Square in Fujisaawa SST.

Enjoy living in this town, love this town and be proud of this town.

Fujisawa SST meets all requirements for towns, such as eco-friendly, comfort, safety and security. But is that enough? We have prepared various systems by which residents can enjoy their lives or feel that they want to have communication between generations and will continuously develop the town. Residents want to join programs in the town because they love their town. We hope to develop a town that will accumulate value and evolve over time, while residents will play leading roles in creating their own stories in the town. We will continue to work behind the scenes and support town management. Let's work together to create Fujisawa SST.

Fujisawa SST Management Company
Mr. Tomohiko Miyahara

The company will evolve the town's functions in a sustainable manner based on feedback from residents.
Interviews of people rooting for the town's development

What kind of town do you want the FujisawaSST to be?

One of the features of the Fujisawa SST is that it provides opportunities for people to connect with one other via the town or community frameworks. There are people who look forward to the opening of the town. We held interviews with people who are following Fujisawa SST's development as if it is already their own town about their expectations.

Create loose networks between towns and people.

Interaction between people will help the Fujisawa SST to maintain its freshness. I don't want the Fujisawa SST to be a closed community within its boundary. Loose networks are the best. I hope this town will have at least one event every year that neighborhood residents can join in, such as rice cake making, Bon festival dances or barbecue events. I believe that relationships in which cooperative in time of need will be created through such events. People living in Fujisawa are very friendly and open-handed. I hope people who move to Fujisawa SST will come to love Fujisawa. I want them to build on the town's own characteristics and publicize their initiatives in the next step.

Specified non-profit organizations
Fujisawa-shi citizen activities promotion network
Ms. Akemi Tezuka

This organization supports citizen activities in Fujisawa, one of the leading cities in terms of NPO activities. It aims to produce lively towns where each citizen is getting along well.

Create a futuristic town based on human connections.

In Fujisawa, people appreciate the culture of their hometown. It will be great for the Fujisawa SST to be a new hometown for its residents. Adults keep a helpful eye on the children, and those children help the elderly or rear their own children when they are grown up. If a person announces his or her project, people gather to support it. There are people who lend a hand when you are in need. I expect that a next-generation community will be created in Fujisawa SST, where people are connected based on their thoughts or emotional bonds instead of via formal organizations. The more new technologies or facilities are adopted, the more it becomes important to inherit old Japanese warm-hearted lifestyles, which will teach the children a lot.

Shonan Yomiuri Shinbunsha Inc.
Mr. Chizuru Moroboshi

Editor-in-Chief of Shonan Yomiuri, a community newspaper in the Shonan area The company supports the interaction of communities and people such as by running SOCOS, a social community space.

It will be great for the Fujisawa SST to develop into a town where all people can show their abilities.

Take the different roles of a man. He may be an employee at his company, but may be a father in his family or serve as PTA president at his child's school. He may be a coach for the community's football team. The Fujisawa SST provides residents with a variety of services and at the same time, residents have a lot of opportunities to play a role. Closer connection with a wider range of people will broaden the personality and outlook of each resident. In a sense, the development of this town is already in progress. Lifestyles of residents, the last piece of the puzzle, will determine the completeness of the town. I believe that Fujisawa SST should be proud of this type of progress, of returning to a human-scale town rather of a town that is simply an extrapolation of existing scientific developments.

Community producer
Mr.Hima Furuta

He has produced a number of community projects, including the "Best Morning in Japan" in the southern foothills of Yatsugatake, the "Marunouchi Morning College" in Marunouchi in Tokyo, and "Roppongi Noen," an experimental agricultural restaurant.