TOWN SERVICES
Town service – Energy –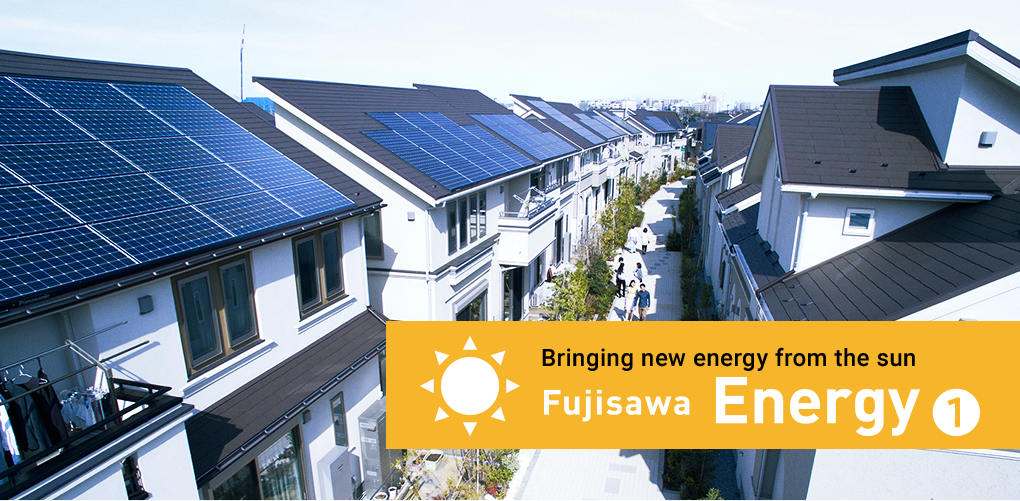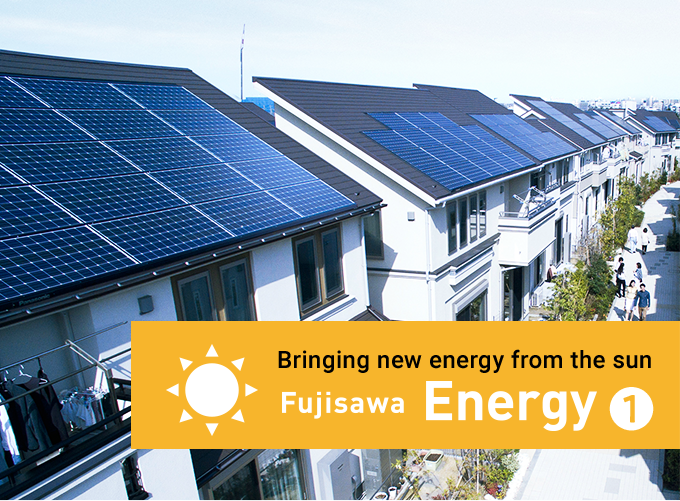 Utilizing Sunlight and Breeze throughout the entire town of Fujisawa
Since the Great East Japan Earthquake on March 11, 2011, there has been increasing public demand for an energy paradigm shift to renewable energy solutions that are less vulnerable in times of disaster and have smaller environmental impacts, as primary energy sources to support everyday living. Under the new slogan of "self-creation and self-consumption of energy", the Fujisawa SST project will provide energy services designed to complement lifestyles through to the next generation, enabling residents to generate the energy that they use in their own homes, through optimal utilization of solar power generation and other tools. Detached houses to accommodate some 600 households are to be constructed in the town. Each will be equipped with a solar power generation system and storage battery units. The houses will be designed so as to make possible lifestyles based on "self-creation and self-consumption of energy" through the" SMARTHEMS™ (Home Energy Management System)". All residents of this Fujisawa SST will be able to start enjoying eco-friendly and smart lifestyles, underpinned by optimal and stable utilization of renewable energy sources. Fujisawa SST is intended to be a sustainable smart town that achieves independent and symbiotic energy management aiming for maximum energy efficiency through state-of-the-art smart houses designed to thoroughly promote self-creation and self-consumption of energy.

Flexible response to changes in the power supply environment and in people's lifestyles will enable adaptation to future energy usage behavior.
Detached houses in Fujisawa SST to be equipped with a complete SMARTHEMS™, integrating solar power generation, storage batteries and other devices aimed at the future

Every detached house in Fujisawa SST will be equipped with a solar power generation system and storage batteries. Devices for managing power consumption by home appliances will be integrated into a complete SMARTHEMS™ (Home Energy Management System). This will be a house that is comfortable and eco-friendly to live in and enables optimal control of household energy consumption while utilizing electricity generated from Fujisawa's sunlight. Customers can choose between all-electric and fuel cell type homes (see chart below), according to which type best meets their particular lifestyle energy needs. This is how we aim to realize "independent and symbiotic energy management", with which people generate their own home-use energy and utilize it in an efficient and smart manner.
Smart management from power saving to selling by linking solar power generation systems, storage batteries and ENE-FARM

Detached houses have the latest Energy Creation-storage Linked System for Home, which links a solar power generation system or storage battery to the ENE-FARM household fuel cell cogeneration system. Electric power generated by respective systems can be used to meet household requirements and excess power can be sold. In the future, individual houses that are independent in energy terms will be linked to the Building Energy Management System (BEMS)of facilities in the town to create a group. We have our sights set on the establishment of an independent and symbiotic energy management system where the value is expanded by linking individual groups to the town's Community Energy Management System (CEMS). Utilizing these systems enables you to respond to next-generation energy use styles, where the town and residents cooperate in electricity conservation.
Achieving eco-friendly and comfortable living with the adoption of "passive design" to streets or zones of the town, delivering sunlight and breeze to the entire town in Fujisawa City

"Passive design" naturally utilizes wind power, sunlight, water, ambient heat and other natural resources of Fujisawa. " Passiveness" is a concept enabling very comfortable living with minimal burden on energy resources. It incorporates traditional knowledge about homebuilding, such as the thatched roofs used on traditional Japanese houses. Based on this concept, roadside trees and garden paths are designed along with comfortable wind flows from the Shonan beach in Fujisawa SST. Town design guidelines requiring building houses with at least a 1.6 m margin allows town design that does not block sunlight. Passive design enables houses that will also be equipped to achieve optimal energy management efficiency through "active" devices for energy creation, storage and saving based on solar energy. The active devices and passive technologies will enable comfortable and eco-friendly living throughout the entire house through a synergistic effect.
Not only "visualizing" power consumption of houses and facilities, but also providing energy consulting services to meet changes in lifestyles

In Fujisawa SST, electric power of houses and all facilities of the town will be visualized with Smart HEMS or BEMS, including electric power generated by solar power generation systems or the power consumed by home appliances. In addition, energy consulting services will be offered based on the family structure or the power use status. We will provide eco-friendly and budget-pleasing support by helping residents control excessive electric power use or sell generated power.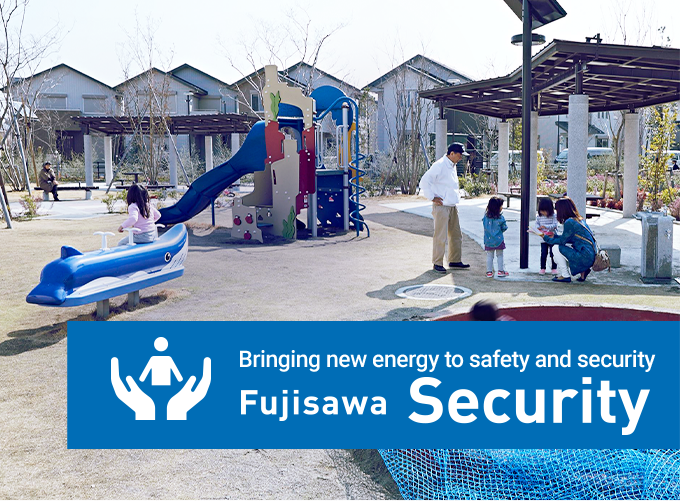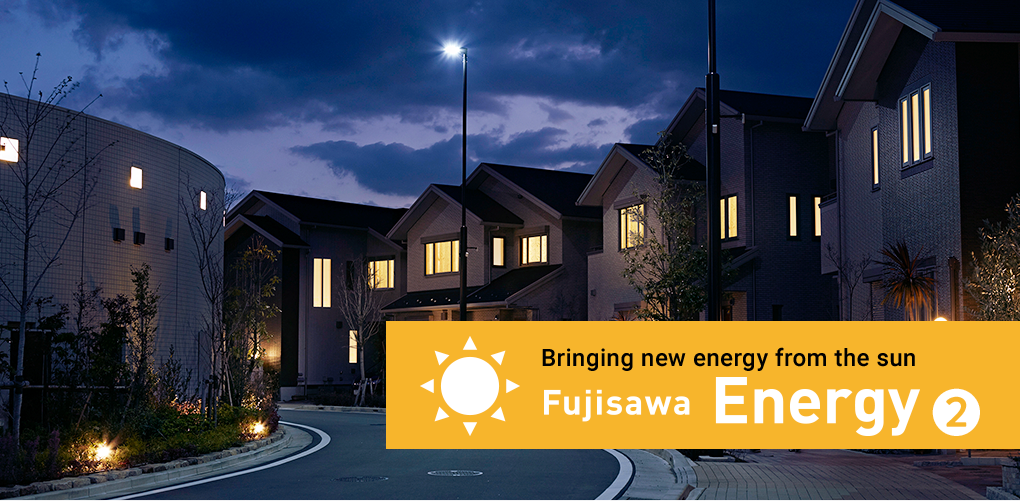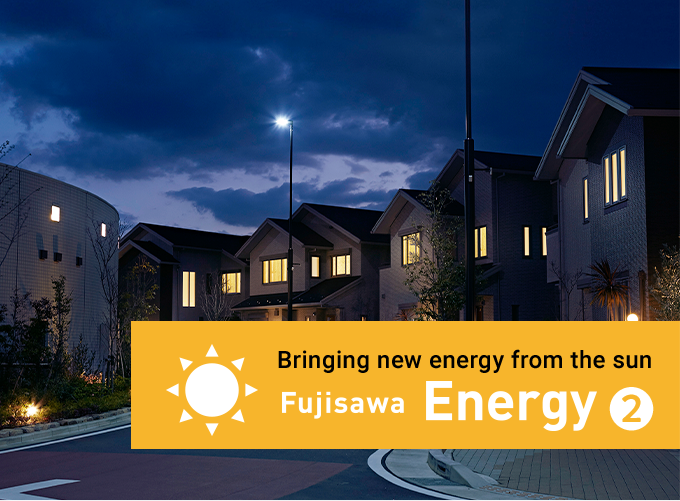 Lit-up for hope during emergencies
The importance of uninterrupted power supply was brought home to us through the tragic experience of the Great East Japan Earthquake. People depend on electric power for everyday living and its supply should never be interrupted, even in a time of emergency. Fujisawa SST sees consistent, reliable power supply as another theme and mission of the sustainable smart town project. In Fujisawa SST, all homes will have functioning lights in the event of an emergency. Families will have energy sources available for information media such as mobile phones and tablets, and means of transportation such as electric vehicles (EV) and electric-assisted bicycles. In Fujisawa SST, homes will remain lit to help keep inhabitants' hopes and spirits up during an emergency.
Energy Creation-storage Linked System for Home Supplying electric power and hot water in emergencies by utilizing ENE-FARM

Detached houses of Fujisawa SST will be equipped with the Energy Creation-storage Linked System for Home, which controls not only the solar power generation system and storage batteries but also ENE-FARM. The system will achieve more stable power supply by allowing the use of solar-generated electricity and electricity generated by ENE-FARM even in the event of a power outage. Hot water will also be supplied. Furthermore, the energy management system will continue to supply energy in emergencies such as by distributing power to lighting, refrigerators, TVs and other pieces of equipment essential for daily life in accordance with selected settings.
Establishing the Community Solar System, distributed renewable energy system, and other hardware throughout the town

In the south of the town, a community solar power generation system was installed on public land. Under normal circumstances, this system will feed power into power grids and contribute to low-carbon lifestyles in the region. In the event of a disaster, it will become an emergency power source for Fujisawa SST and neighboring areas. The system consisting of compact units with solar power generation functions can be easily moved by unit. In the future, versatile use of this system will become possible as a distributed renewable energy source. We are building a disaster-resistant town by installing solar power generation systems and storage batteries in the Committee SITE, the community center in the Central Park. Furthermore, we will lay power lines underground and use mediumpressure gas conduits with high earthquake resistance.
Providing daily support system to raise residents' awareness to enable maximum use of the town's facilities in emergencies

We will raise residents' awareness of efficient hardware use in daily life scenarios in preparation for emergencies. Ten to twenty households will create a mutual assistance group and participate in seasonal or disaster prevention events organized by the town management company. Residents will strengthen group ties and deepen cooperation through communications, which will help them cooperate in emergencies. The town management company will support the operation of energy-related equipment of houses and the town for continuously maintaining and evolving hardware for emergencies. It will provide a finely-tuned backup service such as offering advice on replacement timing or performing periodic maintenance.